TWINNING 26th April 2018 to 30thTWINNING 26th April 2018 to 30th Thursday evening Sainsbury's bus stop left 18:45hrs On the Pont-Aven we went to our Cabin to find only one bunk? After a little while we saw the lever in the ceiling which let down one side and this needed to be pulled out, so that Paulene now had the top bunk.  Friday Arrive Roscoff 08:30hrs 27th April 2018 French time. 10:30 AM. Welcome to our English friends at Poulpry Walk on Bénodet Lettey it was just as well the crossing was last night as it was stormy! 18:00hrs evening, Welcome by the Mayor and his Team Reception hall at the city hail of Bénodet
Free evening Played Crapette & Packet Cards to learn numbers and suites
Saturday April 28th, 2018 A.M. Meeting point at Poulpry for departure by bus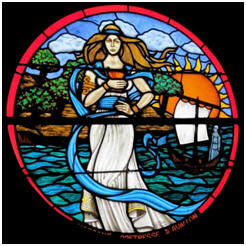 Visit DISTILLERIE DES MENHIRS PLOMELIN
Glass window of "Morgan Pretersse De'Avallon" Looking over the Orchards this was in the Cellar gable wall.
Of course it ended in the shop where Paulene bought a bottle (5mLt) of French Whisky? For Norman.
12.00 P.M. Departure for AUDIERNE Picnic Lunch13.00 P.M. the room of AUDIERNE the Restaurant AQUASHOW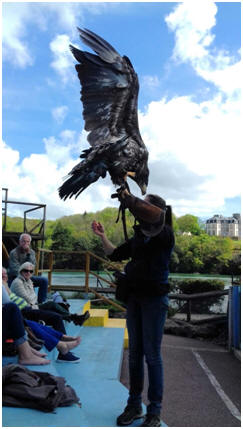 15.00 PM. Bird Show which was very good from the Big Bald Eagle to the small Egret, they even let children hold the Egret while it was feed.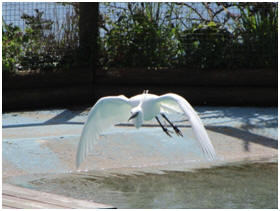 AUDIERNE the Restaurant AQUASHOW
17.30 P.M. Return to Poulpry
Sunday April 29th, 2018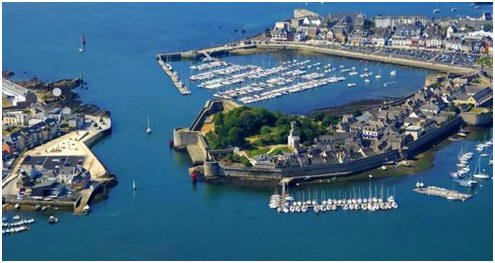 Morning out to Concarneau we went to the far side and had a ferry ride to the Citadel. We walked through to the main entrance, after Paulene bought T-Shirts for our grand-sons. We meet fellow Twinners in the square, before francoise drove us back just in time for.
Dinner at the Sea Gul Crapery 12:30hrs
19:00hrs FESTWE EVENING Rooms of Keranguyon in Bénode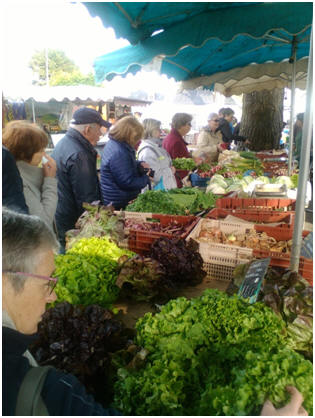 Monday April 30th, 2018 traditional walk though the market. Where there was a queue for fresh vegetables
11.00 A.M. Departure to Roscoff
KENAVO