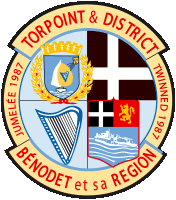 Facebook  



A Spring Lunch

, 



SUNDAY 15th April 2018
12.30 for 13.00 
3 COURSE LUNCH 
£15 

Contact Lynn on 017528162(13 or Ipstamp52@gmai1.com) 
To book your seat, list closes 1st ApriL 2018

30/9/17

Dear Member,

The trip to Benodet next year is from
26th-30th April 2018

Please let Janet Fincher know if you are wanting to travel with the group or intend to travel independently as soon as possible.
Please also inform Janet of any dietary requirements.

Details so far:

Depart from Plymouth…Thursday 26th April ….8.45pm on Pont Avon
Arrive Roscoff ... Friday 27th April….8am

Return home…. Monday 30th April….3.10pm on Amorique
Arrive Plymouth….8.10pm

If sufficient people travel together it is hoped to have a coach to take us all the way from Torpoint to Benodet.

It is not possible to calculate an exact price until numbers are confirmed but an approximate cost is £100 + cabin (£42)

Deposit of £10 per person to be sent to Janet, preferably by cheque  made out to Torpoint Twinning Association, before Monday 30th October.

Final payment is required before 12th March 2018

Janet's contact details:
Mobile…………… 07876425970
Email……………  janeric8@btinternet.com

Further information will be forwarded as it becomes available.

Kind Regards from The Management Committee
Application Form for Twinning vist to Bénodet
France is getting ready for our visit see links below
Comité de jumelage. Trois nouvelles famille

(in English) Twinning Committee: Three new Families
---
We are very sad to announce the passing of Norman Myles, husband of Linda, a long standing Twinner.
We offer our deepest sympathy to Linda Our thoughts are with her at this very difficult time.
---
---
30th Anniversary Exchange - Back to Back!
Bénodet to Torpoint - 26th April 2017 to 30th April or perhaps 1st May
Torpoint to Bénodet - 24th to 29th May
Janet Jenkins ….is asking for photographs of the Twinners visit to Torpoint in April this year to put in the archive as a memory of the year.
---