PROGRAMME OF TWINNING EVENTS 2019
SATURDAY 13TH JULY TASTE OF FRANCE, BENODET PARK
SUNDAY 4TH AUGUST MT.EDGCUMBE CLASSIC CAR RALLY (TWINNING STALL)
SATURDAY 16TH OCTOBER QUIZ NIGHT, 200 CLUB
SATURDAY 23RD NOVEMBER CRAFT FAYRE, THE BAND HUT
2020
JANUARY (DATE TO BE DECIDED) SKI1TLES NIGHT
Cream Tea Sunday 10thJune 2018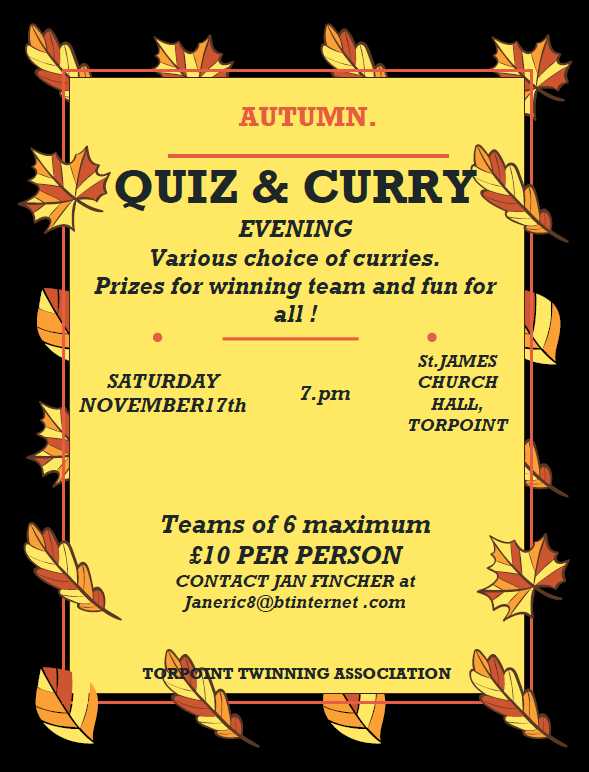 Quiz & Curry night November 18th at St. James' Church Hall 7.3Opm A Craft Fair
Food will be planned at next weeks entertainment meeting.
craft fair Craft Fair November 25th 10am – 1.30pm Light lunches of soups, bacon baps, tea, coffee, mince pies. Raffle / childrens games / christmas crafts Contributions of home made produce ; pickles, chutney crafts etc would be much appreciated. Stalls can be set up from 9am Tables to hire for non twinners £4 Patsy to give these details to Joyce Walsh to put on Facebook.
Christmas Party 9th December at Wilcove Hall 7.30pm £5pp Bring a plate of food for the buffet and your own drink. Plates and cutlery will be provided. Please bring a wrapped gift for around £1 for a fun game. Suggestions for games please. Please let Janet know if you wish to attend before Friday 1st December.