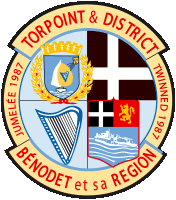 The 35th Year of Twinning
28th June - 1st July 2022
At last a resumption and overnight on the Amorique, Mon/Tues. Masks de riguer on disembarkation and arrival at Poultry after a spacious luxury coach ride. The traditional Mayor's reception at the Marie renewing friendships with our twins.Champagne and canapés from Monsieur Ravelec of course. An evening spin in a revolving restaurant and renditions from our respective choirs.
Wednesday a free day and our host took us to Ile Tudy for a familiar stroll, coffee and scrummy Breton Fare. A gathering of neighbours for dinner at Chez Francois who is a superb cook.
Thursday and excursions to the Jardin a Landrevarzec refreshed with a rain shower followed by a jolly pic nic before Maison des Vieux Metiers observing recreations of past crafts. Finally across the river Odet to St. Marine for a splendid repast at the Cafe du Port where President Emanuel Macron had dined. A sunset stroll among the marina pontoons looking for the yachts of our intrepid sailing members.
Friday and a final stroll along the beach and river before fond farewells. The Amorique awaited us at Roscff for a smooth and sunny sail home to Blighty.
Can these exchanges continue to excel themselves ? Now it's our turn to reciprocate in 2023, God willing. de rigueur. Huzzah, John.